For all the young ladies out there who are in high school, this one is for you. I am all about finding great deals online to help save some money so I have just the thing. The high school prom is approaching and ladies are going to be busy shopping for that special prom dress. I know how costly shopping for a prom dress can get and while some can afford a more expensive dress, unfortunately for some they can't. But don't fret because DressFirst.com is here to help.
DressFirst
is a leading global online retailer for special event dresses, prom dresses, bridal gowns, wedding party dresses, accessories, just to name a few. It prides itself on exceptional customer service, high quality products and affordable prices.
Let us take a look of some of the gorgeous prom dresses that you can find at DressFirst.com.
I have learned that the Color of the year 2014 is called the "Radiant Orchid", which is according to Pantone, Radiant Orchid blooms with confidence and magical warmth that intrigues the eye and sparks the imagination. Why not wear a dress in that color
or something similar.
Wearing a dress in nude or white color dress can be unflattering or it may look more bridal, but when done right it can be stunning. I
f you are confident in your body and your skin tone, by all means wear it. T
his One-Shoulder Floor Length Chiffon Prom dress is all about simplicity at its best. With the right hair, make-up, shoes and accessories, you will look like a Grecian Goddess.
And, if you are all about simplicity and loves to wear black. Go with a little bit of details like some sequins, perhaps. Just like this Sheath One-Shoulder Sweep Train Chiffon dress with Ruffle Beading.
You want to go for something dramatic? This Cathedral Train One-Shoulder Asymmetrical Charmeuse Dress is amazing!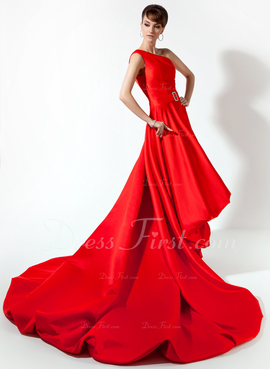 No matter what type of dress you are looking for, remember that at DressFirst, you can pick and choose that perfect dress you have always wanted. Each dress is made to order for customer's satisfaction. Make sure to check out their website today and browse their vast collection of
prom dresses online
. Start planning the style of your prom dress now and let DressFirst.com help you. It is so nice to know you can actually look stunning without burning a hole under your pocket.